There are a plethora of animal cafes in Tokyo, so we compiled a list of popular areas for you to choose from (or just get started if you just can't get enough)!
1. Owl no mori – Owl Cafe
In the famous Asakusa lies a place nicknamed Jungle Café, and for good reason. This can surely be a memorable experience.

Its namesake literally means "forest of owls" and the décor and number of birds you'll see reflect it and create a nice break from the chaos of the city.

Among an enormous amount of plants (some real and some fake), a couple dozens owls move semi freely. You'll see several different species of owl (all grown in captivity and in contact with humans since hatching – the café doesn't have any captured animals).

You'll also find several other animals: lizards, parrots, meerkats, and even an iguana.

The staff is helpful and knowledgeable, ready to satisfy any curiosity you may have about owls.

There are a few rules to keep in mind:
・Sanitize your hands before and after handling any animal in the café.
・Do not try to pet owls next to a sign that reads "don't touch"
・When petting owls, use the back of your hand (they enjoy being pet on the head and the back).

The entry fee is 890 yen for adults 540 yen for kids (a soft drink is included).
Forest of Owlアウルの森 浅草 新仲見世通り店

Address1-22-3, Asakusa, Taitou-ku, Tokyo, 111-0032
View Map
Nearest StationAsakusa Station (Tokyo Metro Ginza Line / Toei Asakusa Line / Tobu Isesaki Line (Tobu Sky Tree Line) / Tsukuba Express)
2. Cat Cafe MoCHA
This café, located in Shibuya, sports a host of beautiful and well kempt cats, and an amazing view of Tokyo. Possibly the most elegant cat café you'll encounter, café MOCHA is extremely clean and pleasant.

A must-visit for cat lovers, you'll surely also appreciate the freedom cats have here. They roam at leisure in large rooms, among toys and cat-climbs, chairs, tunnels, and all sorts of cat-entertainment.

In this location (café MOCHA has several in Tokyo and Japan), you must be 13+ to enter and the staff will give you a brief introduction to the place.

Just be mindful that you are not allowed to feed the cats (except for the treats that the staff provides, if you so choose, for 500 yen).

The entry fee is 200yen/10 minutes or 1,200yen/hour. There are also unlimited stay options and discounts for students (must have ID).
Cat Cafe MoCHA猫カフェMoCHA

Address32-12 Udagawacho, Shibuya-ku, Tokyo, 150-0042
3. Torinoiru Café – Parrots, Parakeets and other birds
Another cool animal café in Asakusa, this specializes in parrots and parakeets, hosting more than thirty of them. These birds fly freely within the café (no worries, the staff will give you a poncho to cover yourself).

The bar has a nice fun vibe. Ideal for those who are expecting to see and get involved in some funny bird-antics. Parrots though, are not all there is in Torinoiru café.

You will find over 100 different birds, including birds of prey, like falcons and owls (and you get to pet them too, if you want to). There's also a store that sells birds (but don't be tempted if you're only visiting Tokyo and you're planning to go back to your country).

The entry fee is 1500 yen (including poncho) for the whole day (but during particularly busy days you may be asked to keep your visit no longer than 1 hour).

Given the uniqueness of the bar, it serves to observe a few rules and general codes of conduct:
・Parrots often hang out at the patrons' feet, so be careful.
・Be aware that, despite precautions, your clothes might get dirty.
・Try not to wear earrings and necklaces, to avoid minor injuries.
・Do not use your flash when taking pictures.

There are also some warnings for those who want to approach birds of prey:
・Approach a bird of prey slowly and pet only the back, at first.
・Never scratch the birds.
・Do not poke, or thrust your finger into the birds, and don't swing your hand in front of them.
・Never touch the front of a bird of prey.
・If you want to pet a bird of prey, or handle one, ask the staff first.
Torinoiru Café鳥のいるカフェ浅草店

Address1-12-8 Asakusa, Taito-ku, Tokyo, 111-0032
4. Ra.a.g.f. (Rabbit and Grow Fat) – Bunny Cafe
Ra.a.g.f. (Rabbit and Grow Fat) is a fun experience for any bunny lover. Bunnies are a quite popular pets in Japan and this café rivals many cat cafes. Located in Shibuya, it's very close to many of the attractions tourists like to visit in Tokyo.

Once you enter and choose your package (800 yen for 30 minutes or 1100 yen for 1 hour), you can choose which rabbit you'd like to spend time with. Keep in mind, though, that oftentimes the staff won't allow you to take more than one bunny at the time out of their enclosure since, as cute as they may be, they also tend to fight with one another.

You can purchase some food for these furry companions for 150 yen.

The café itself is reasonably clean and you might find a rabbit roaming around in the seating area (they get their own free time on "shifts" of one hour each).

Don't bring your best clothes here. It is a rabbit café, after all!
Ra.a.g.f

Address6-14-15 Jingumae, Shibuya-ku, Tokyo, 150-0001
5. Sakuragaoka Cafe – Goat cafe
Sakuragaoka is a little different from the other animal cafes in Tokyo. First of all: there are goats! But this is not the only thing that distinguishes it.

Unlike the other animal cafes, here the focus is not the animals, but the food. The goats do hang out on the balcony for diners to enjoy their funny interaction, but you're not allowed to pet or play with them.

The food is good and well prepared, and Sakuragaoka certainly provides one of those unique experiences that scream "Only in Tokyo!".
Sakuragaoka Cafe桜丘カフェ

Address23-3 Sakuragaoka-cho, Shibuya-ku, Tokyo, 150-0031
6. Kotori Café – Bird cafe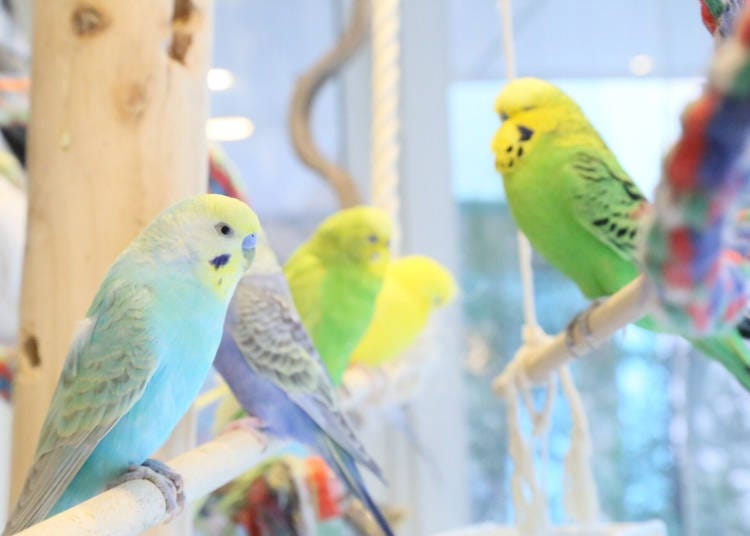 A beautiful addition to the host of animal cafes in Tokyo is Kotori café (little birds café), in Omotesando. This cafe distinguishes itself for the calming and relaxing atmosphere it sets for the patrons. As you'd expect, you'll be surrounded by beautiful chirping little birds (and some big ones as well).

Drinks are 800 yen and come with a cute bird-shaped cookie. While not a petting café per se, Kotori does offer the experience to be in close contact with the feathery cuties that inhabit it. The staff is also very helpful and knows the birds by name!
KOTORI CAFEことりカフェ 吉祥寺

AddressTokyo Mitaka Shimorenjaku 1-14-7 181-0013
7. Hedgehog Café Harry
Yep, hedgehogs! This is the only hedgehog café chain like it in the world. Tokyo has two locations: Roppongi and Harajuku.

This is going to be a refreshing experience even for those of you who are used to animal cafes. Hedgehogs are not very common to pet, but they are adorable (and extremely delicate animals).

Here you can enjoy spending time with these pretty animals (and no, they don't sting as hardly as people think, as long as they are relaxed).

The staff will introduce you to the place and to some rules and tips on how to handle your hedgehog, how to feed them, and how to make the animal's experience as pleasant as your own.

The prices go from 1,400yen (1,630yen with hedgehog snacks) for 30 minutes to 2,800yen for one hour.
Hedgehog Café Harry (Roppongi)ハリネズミカフェHarry 六本木店

Address2F, 6-7-2 Roppongi, Minato-ku, Tokyo 1060032 Japa
We hope you liked our list with Animal Cafes in Tokyo!