Who wouldn't want an aesthetically appealing, upbeat Instagram feed that simultaneously highlights all of your amazing adventures? These 12 locations will undoubtedly make your photos stunning if you're planning a vacation to Bali.
1 | Banyumala Twin Waterfall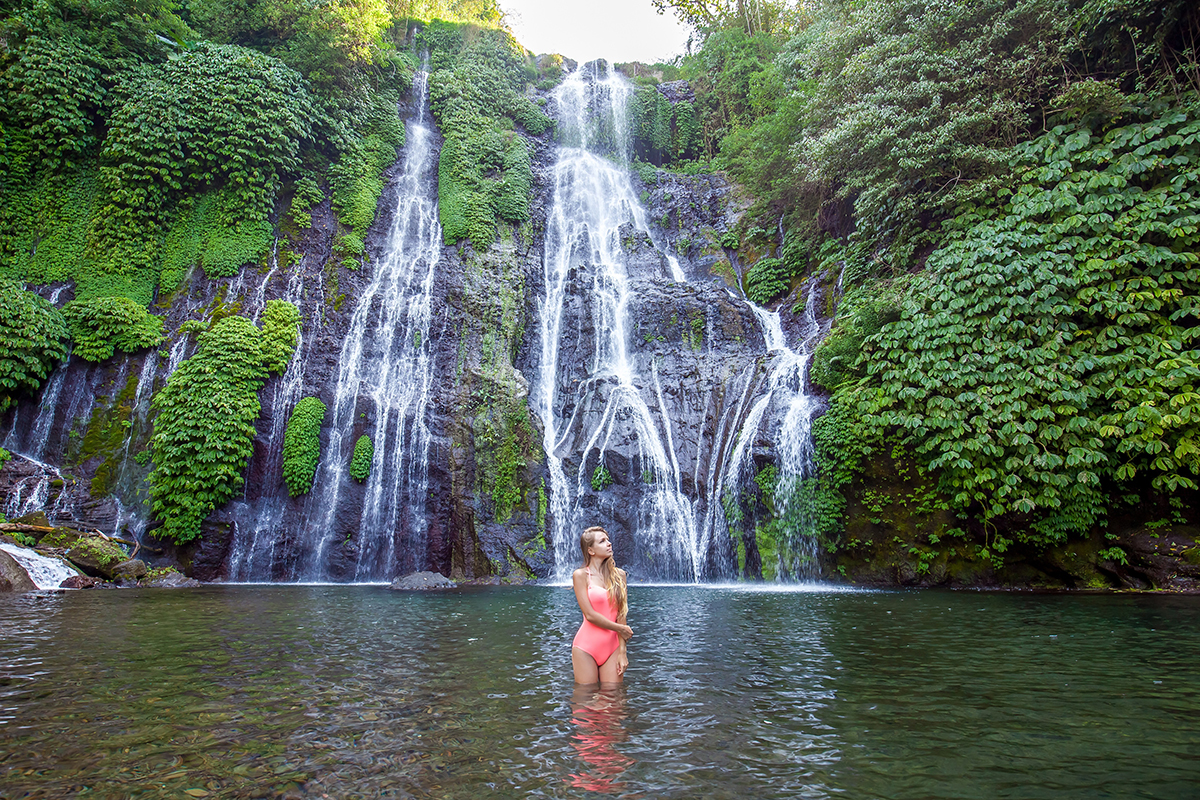 Banyumala Twin Waterfall in Bali is not as well-known or as regularly visited as other waterfalls in Bali, yet it nevertheless retains its pristine natural beauty. On the crater rim road between Munduk and the major highway running from Singaraja to Denpasar lies this breathtaking waterfall. Nothing worthwhile ever comes easily, and finding the waterfall is not an easy climb, but it is unquestionably worthwhile. Lush woods, rocks, a river you'll walk over, and the stunning waterfall itself will surround you the entire way. It would be ideal to relax throughout your vacation by visiting Banyumala Twin Waterfall.
2 | Campuhan Ridge Walk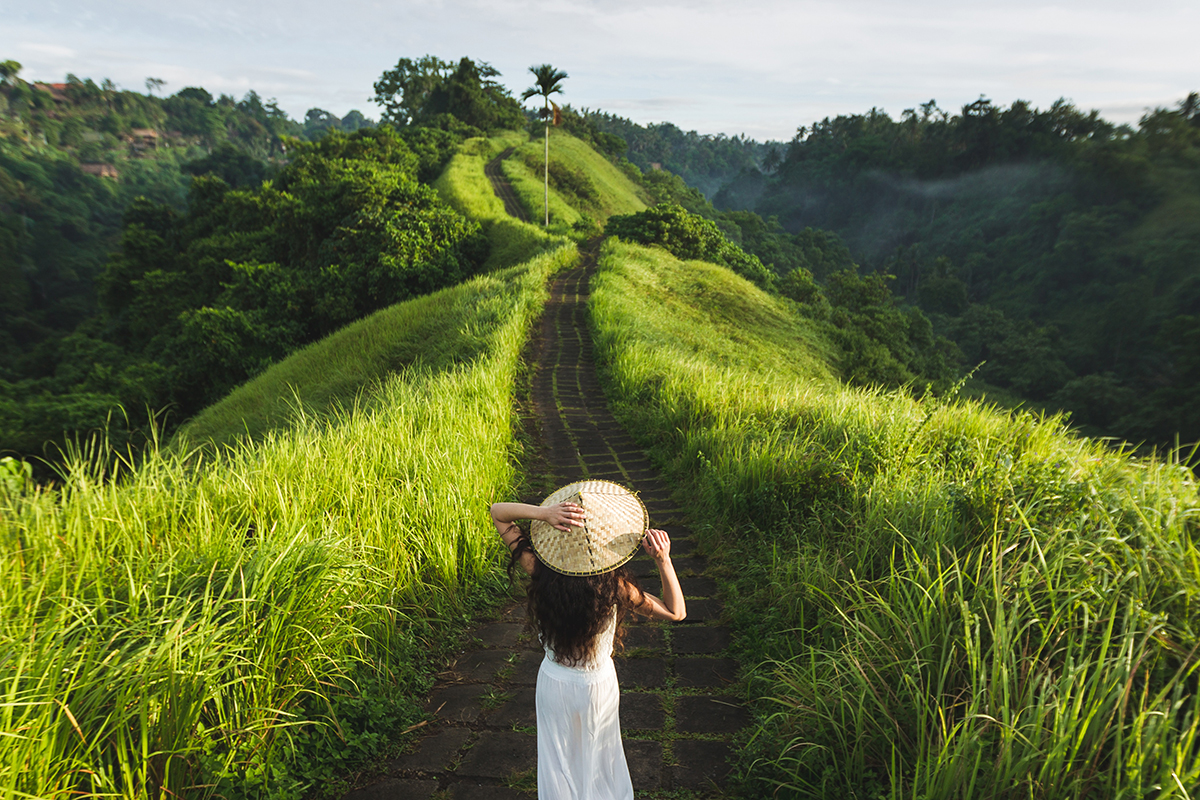 Bali is well-known not just for its terrifying surf, which visitors from all over the world have grown to appreciate, but also for its stunning natural landmarks. The Campuhan Ridge Walk is one that you should attend without a doubt. This picturesque mountain valley hiking track is undoubtedly a nice escape to get some fresh air, even in crowded and quite sophisticated Ubud. You will pass through the most amazing hillside scenery during the nine-kilometer hill track adventure, as well as the verdant Sungai Wos River valley. If the weather is really kind to you and you're lucky, you could even get to glimpse Mount Agung along the route. A very lovely trip to Bali!
3 | GWK Cultural Park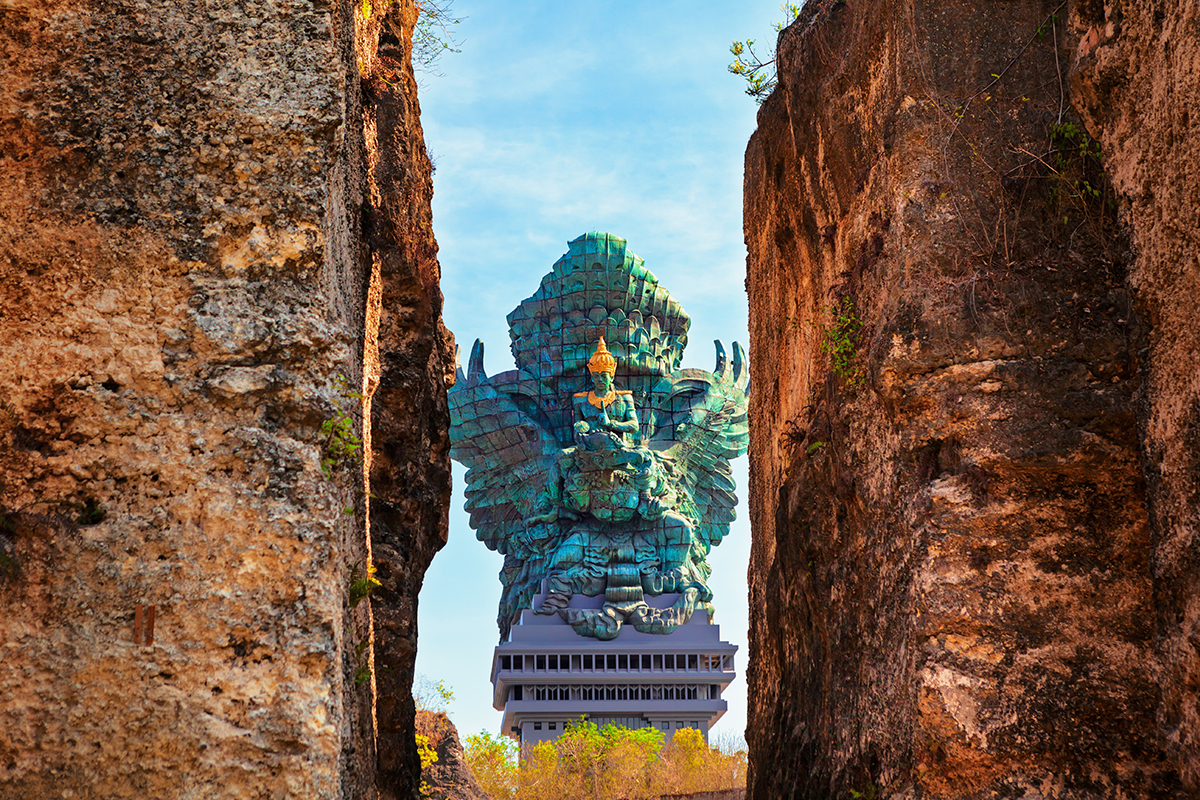 Looking for a tour that includes a gorgeous historical site, fascinating traditional dances, and action-packed activities all in one place? GWK Cultural Park is the ideal destination for your upcoming vacation, so choose that. Here at GWK Bali, you may see with your own eyes the exquisite dances such as the mesmerizing Kecak, the dance for royalty known as Legong dance, and many more unique culturally rich events. Don't forget to relax by the Garuda Wisnu Kencana monument, which was finally finished 28 years ago and is now 120 meters high, in the GWK's Lotus Pond. A journey this amazing undoubtedly belongs to your wonderful vacation.
4 | Handara Golf Course Gate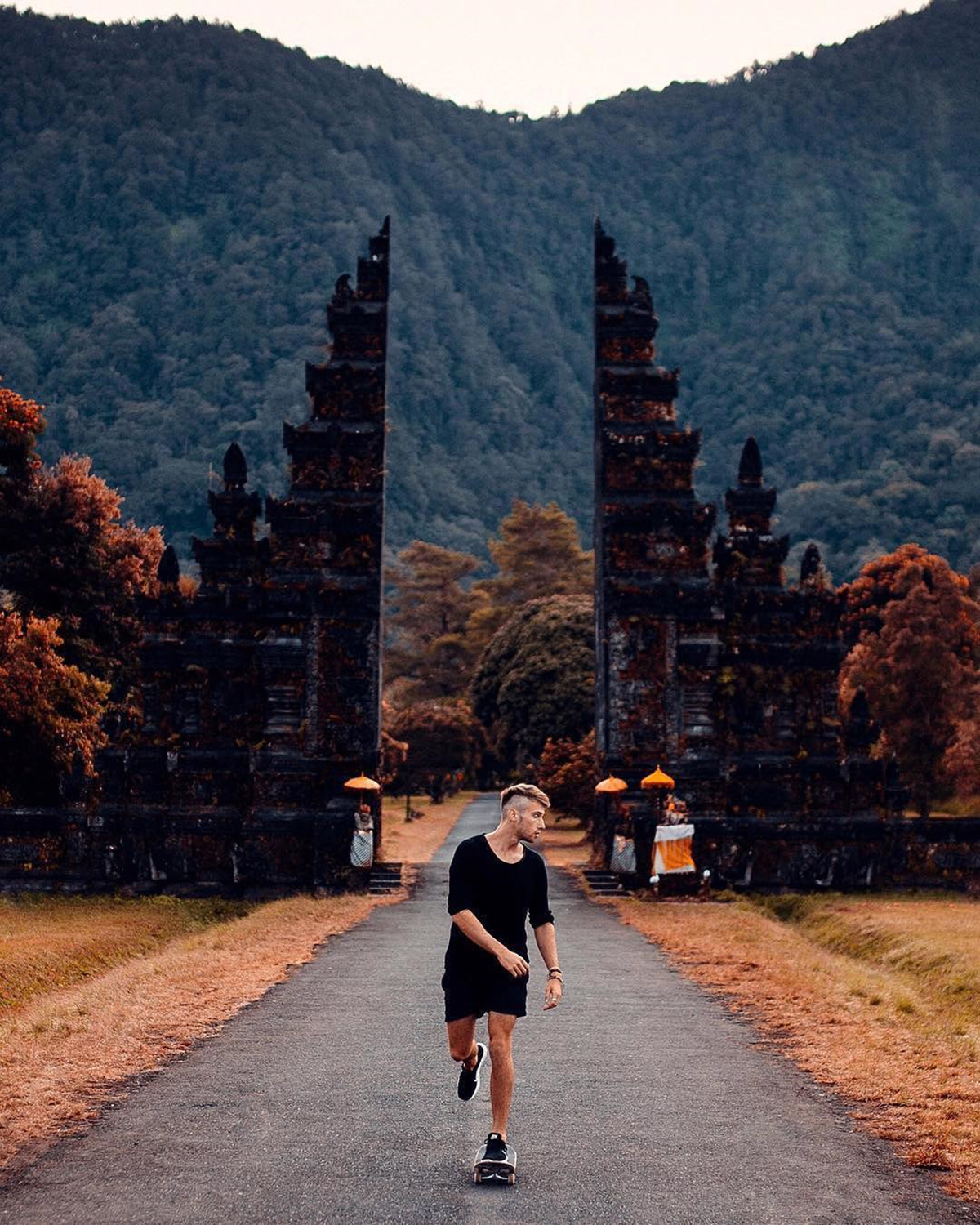 Image by @sam_kolder
The iconic gate to a pathway to serenity has also become one of the hottest spots for Instagram posts. With its beautiful green scenery and peaceful ambiance, it is no wonder people visiting Bali would squeeze this into their itinerary. Aside from the already gigantic exotic traditional Balinese gate, pamper your eyes and decorate your pictures with an amazing green surrounding and the silhouettes of green hills as your backdrop. Amaze your friends with taking a couple of shots right here in Handara Golf Course gate and join the hype!
5 | Kelingking Beach Nusa Penida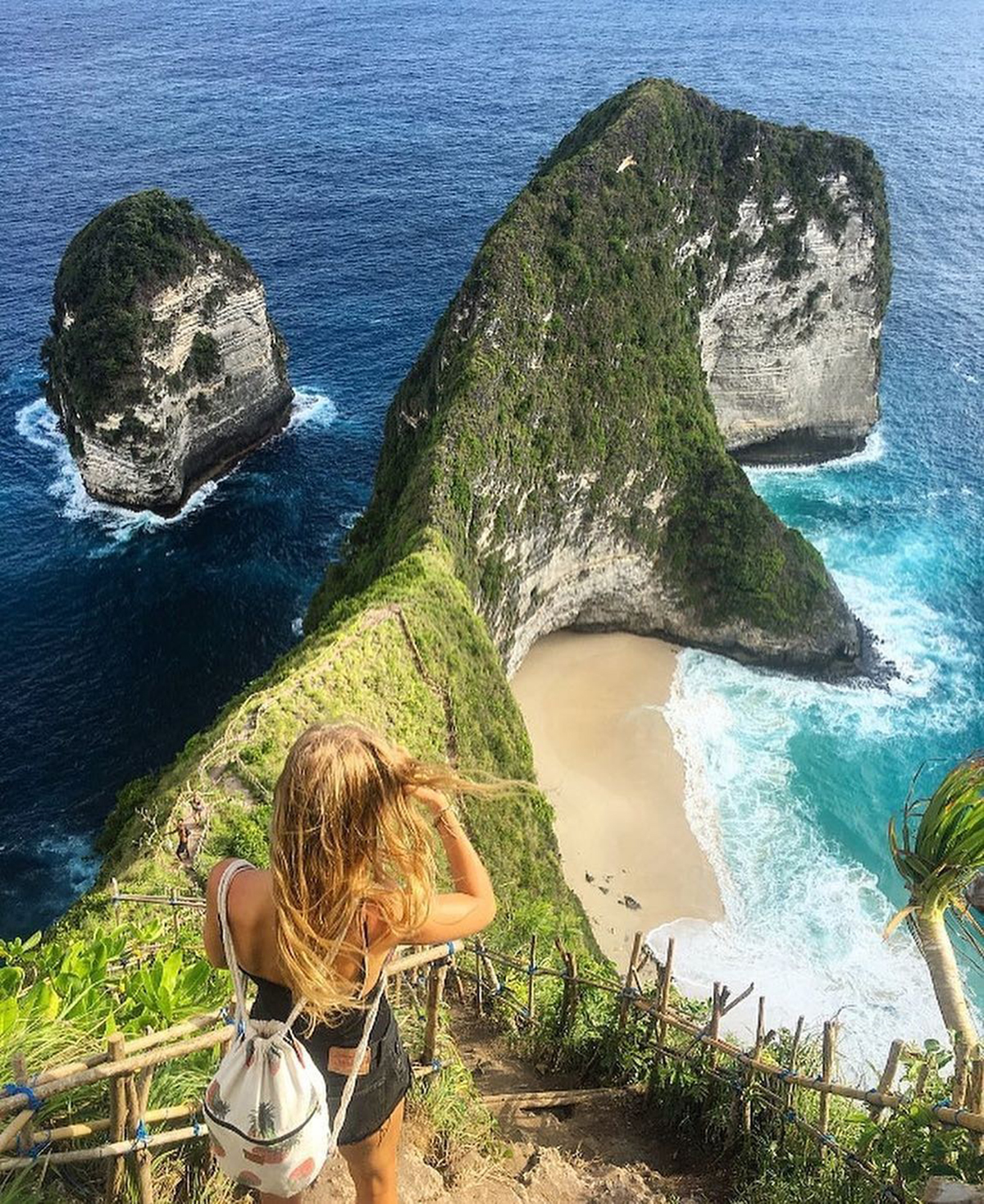 Image by @annabeerends
Bali has several beautiful beaches, and as a result of these unspoiled landscapes, it is well-known worldwide. But Kelingking Beach takes everything to a whole other level. Kelingking Beach merits a position on your must-do list in Bali since it is one of the island's most magnificent tourist destinations. How could it not, with cliffs in a secluded location of the already hidden paradise taking the form of a Tyrannosaurus Rex. The trek is safe as long as you are attentive because of the sheer cliffs and lack of maximum protection. With a view gazing down to the crystal-clear seas and the unmistakable shape of the cliffs like a T-Rex, the scenery from the viewpoint is breathtaking.
6 | Pura Luhur Lempuyang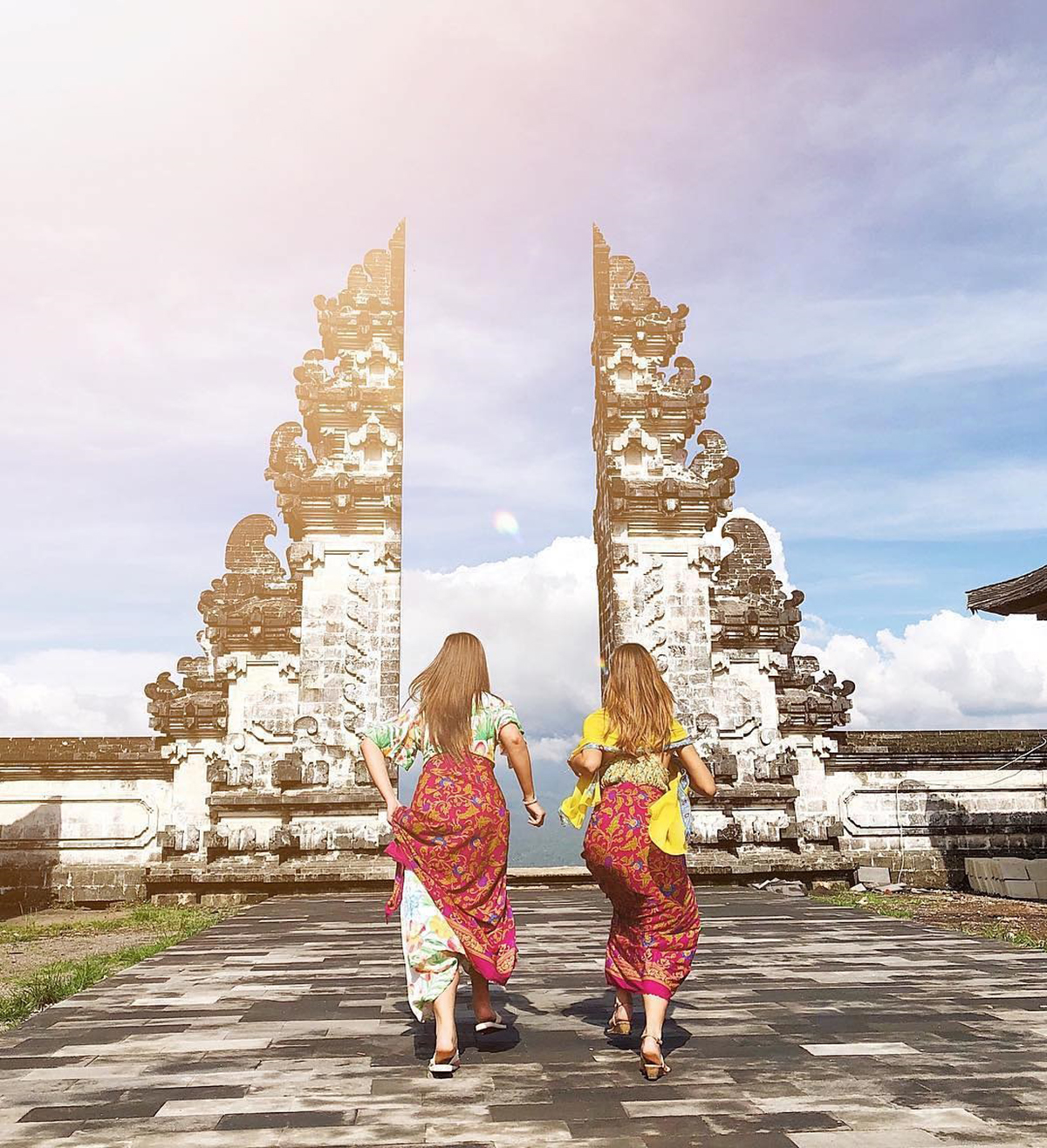 Image by @charlene22
Lempuyang Temple, a historic mountain temple located in Bali's east, is another popular Instagram location. This temple, which stands 1,175 meters above sea level, is thought to have existed before the rest of the Hindu temples on the island. With the help of the given staircase, which is steep and has more than 1,700 steps and is lined with many sights to see, including numerous smaller temples, the height is attainable. This combination of a mountain walk and an intriguing ancient site would appeal to thrill seekers. Be at ease, though! Even those who don't appreciate trekking may take in the breathtaking scenery from the mountain's base. Such an unusual, conventional, beautiful, and historical view—the ideal setting for your amazing vacation!
7 | Ulun Danu Bratan Temple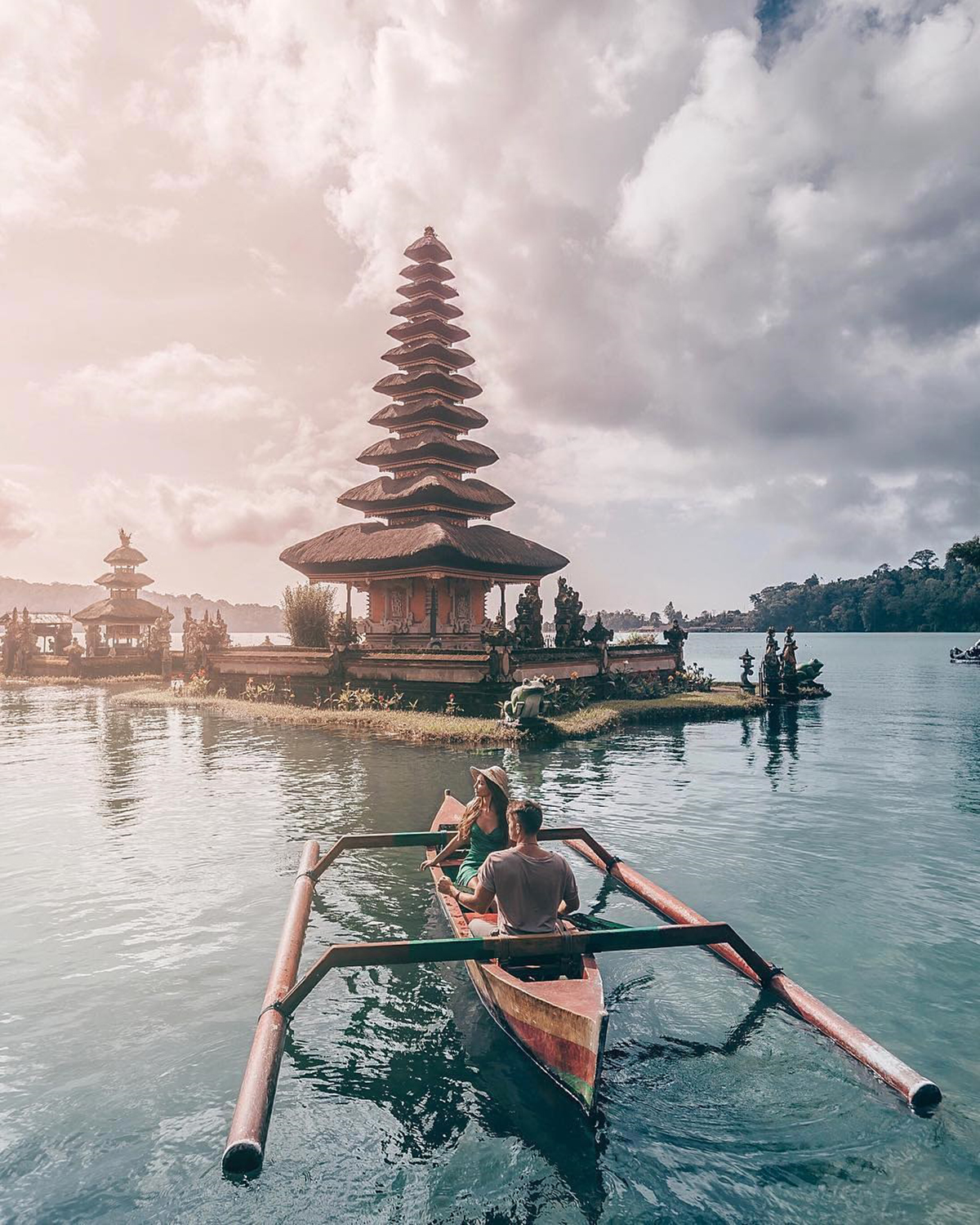 Image by @sergeykbn
The Ulun Danu Bratan Temple is a well-known scenic feature and a significant ancient temple complex that is well-liked by both visitors and locals. It connects the north and south of Bali and is strategically situated. A smooth, reflecting surface surrounds this well-known temple, creating the appearance that it is floating in the air. This has been a popular photo location for many individuals throughout the years, from the period of Polaroids to the current Instagram era. Although this floating temple is the major draw, the entire complex has a historical and tranquil atmosphere that you definitely do not want to miss.
8 | Tegalalang Rice Terraces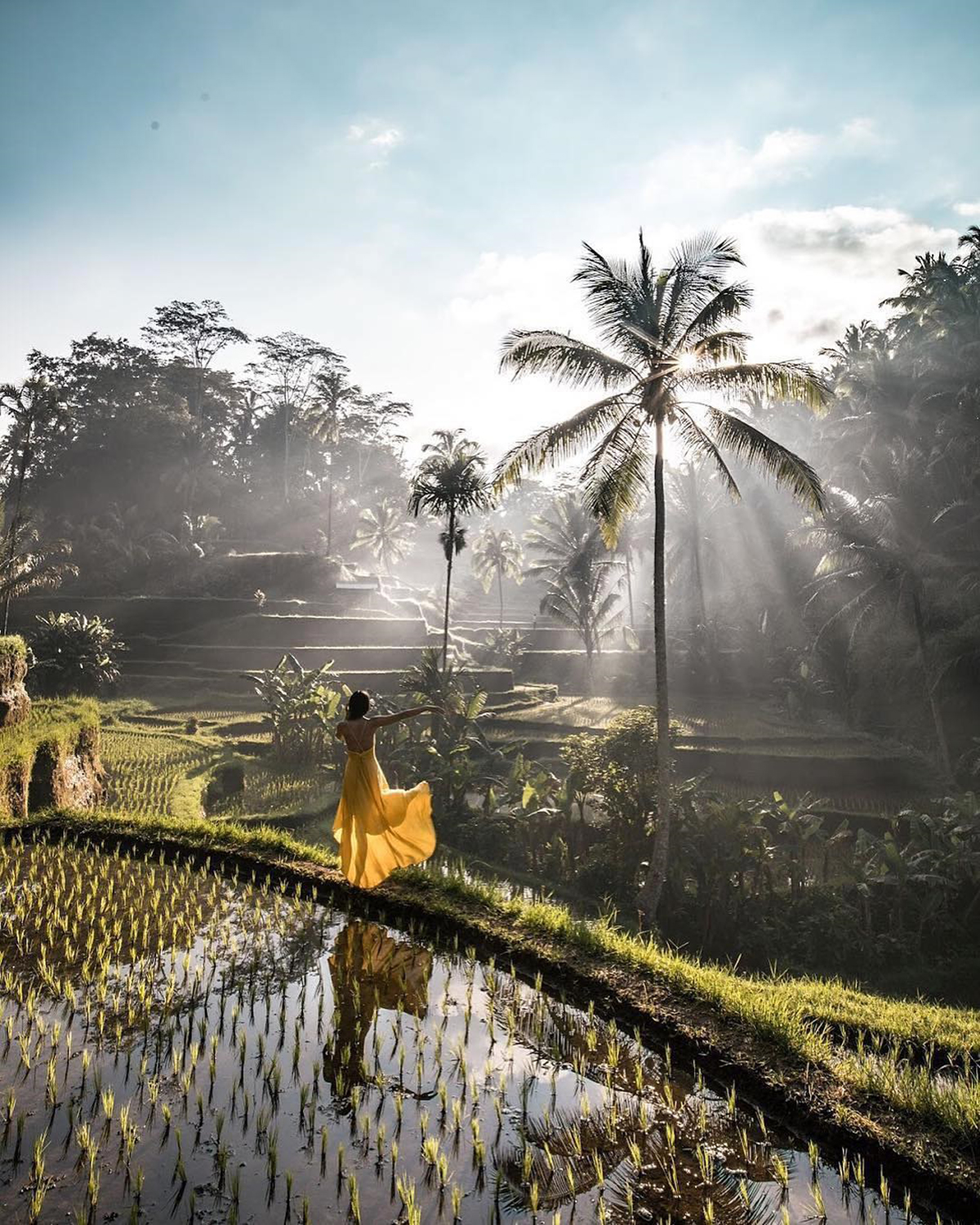 Image by @samisfierce
Tegalalang Rice Terraces presents its gorgeous vistas of rice paddies because of its excellent location in the crowded and well-liked Ubud. Visitors may enjoy the picturesque view of the lovely rice paddies on the valley's slopes only from the terraces. For those of you looking for an adventure or those looking to unwind and breathe in some fresh air from your everyday life at home, the surroundings and thick trees are ideal. Unquestionably a location worth creating memories in!
9 | The Bali Swing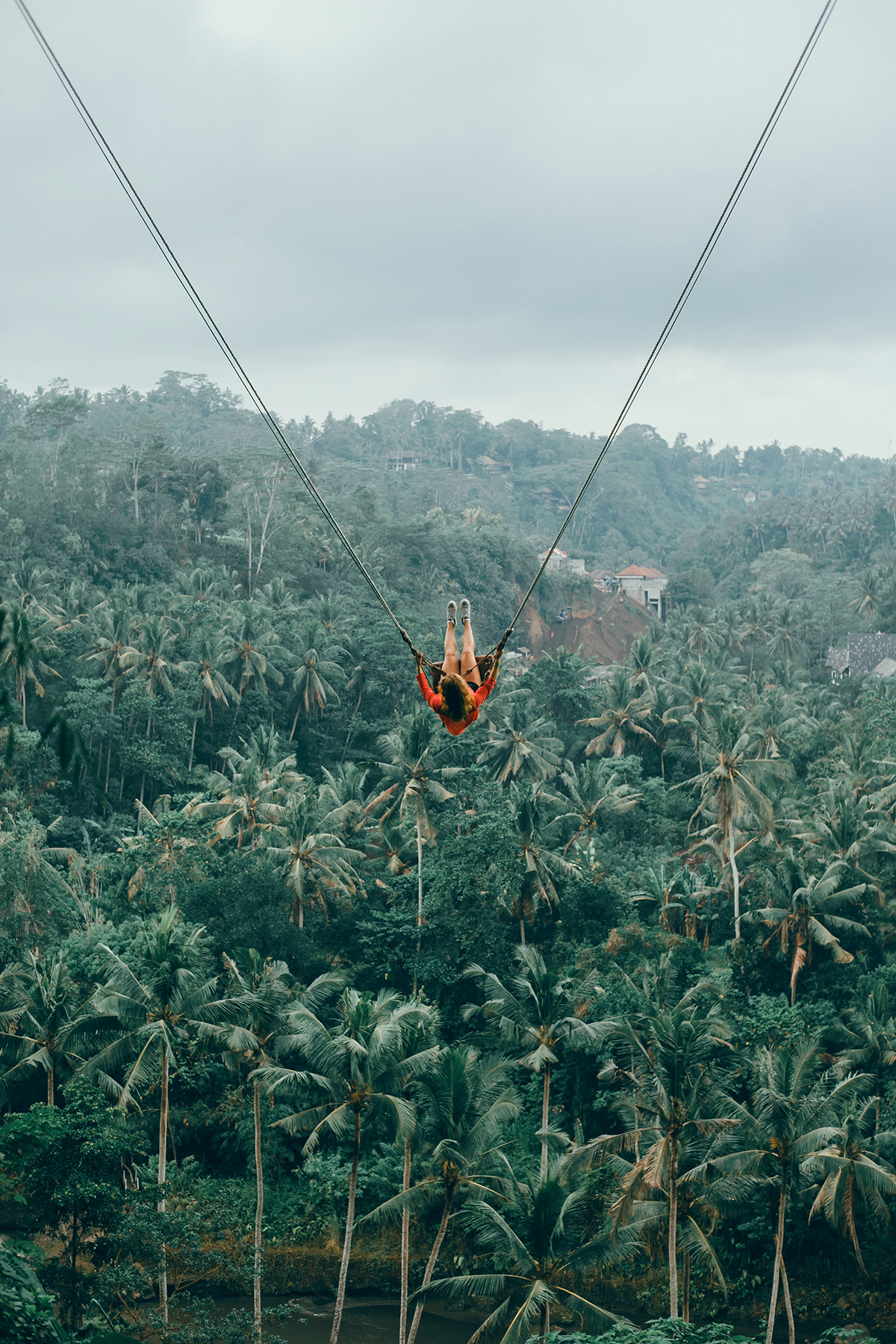 The Bali Swing is all the rage right now since so many people go there solely to find Instagram-worthy locations. Several swings of various shapes and heights gaze out over a lovely palm tree valley with a river. This emanates a genuine Balinese forest vibe that will win your heart. Make sure to go when the place is least busy due of the buzz around it and the breathtaking vista. It is also essential to check the weather before going, and for the finest photo impact, go in the early morning or late evening when the light is soft. Happy photography!
10 | Tirta Empul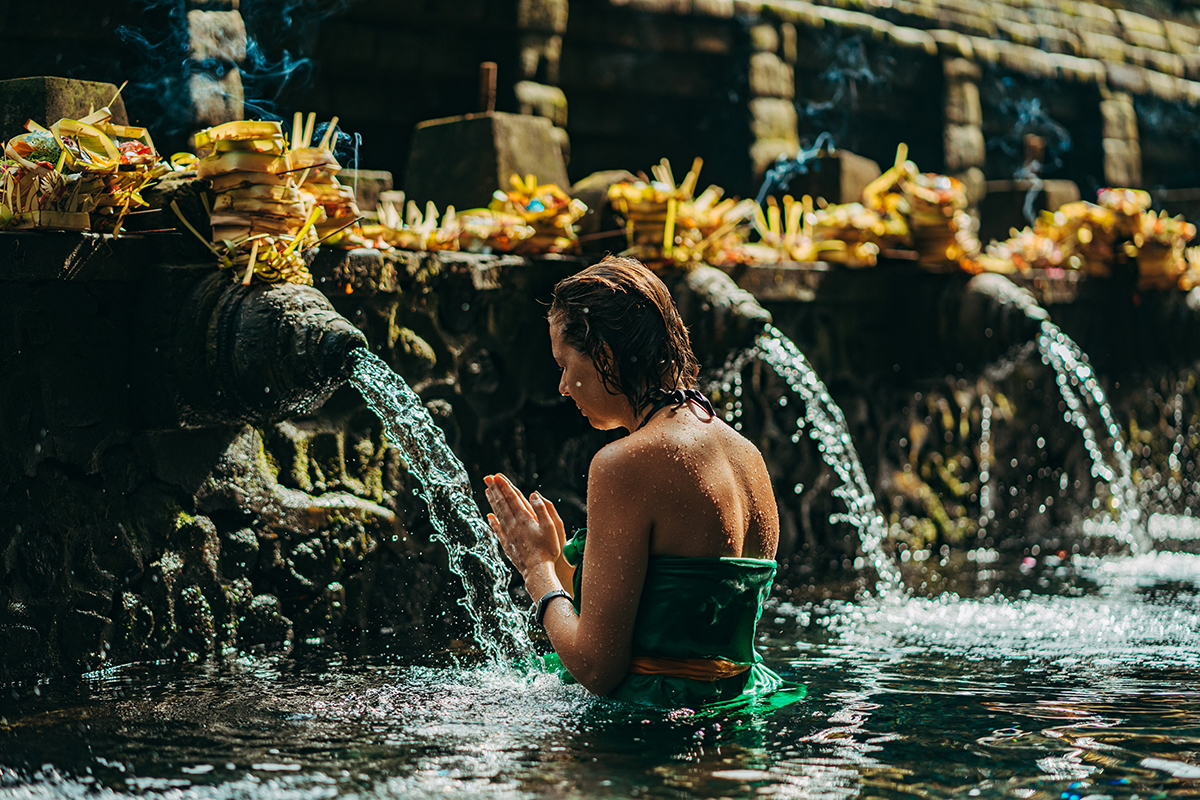 This beautiful temple complex and holy mountain spring, which can be found in the hamlet of Manukaya in the center of Bali, is a national cultural heritage site and serves as the mythical backdrop for a folktale about good vs evil. Tirta Empul, which translates to "holy water spring," is the name of a water source inside the temple. The spring provides water for a number of fish ponds, pools, and purification baths that are located around the periphery and drain into the Tukad Pakerisan River. The spectacular ceremonial procedure and all the other moments are open to everyone who are interested in Bali's history, mythology, and stories.
11 | Tirta Gangga Water Palace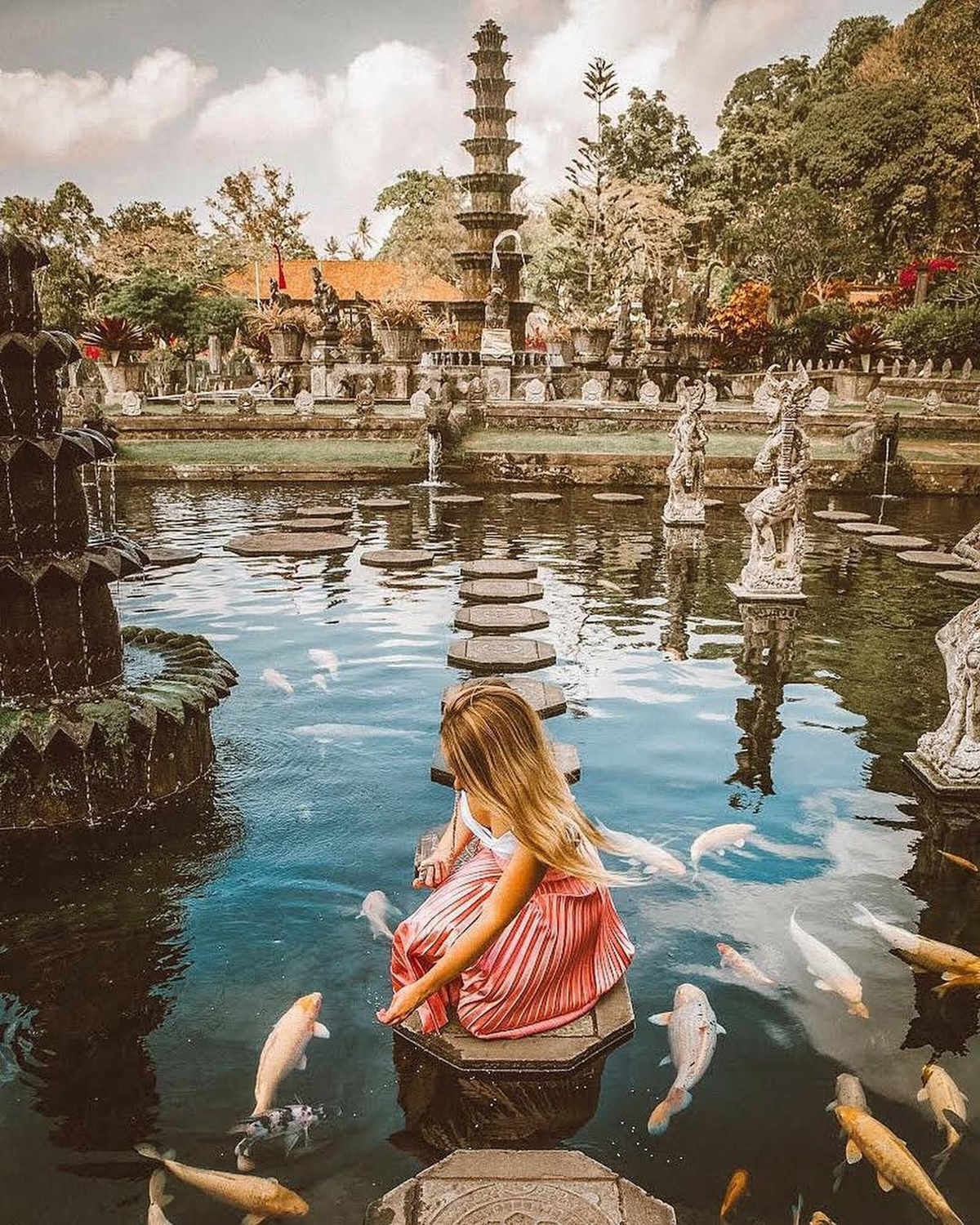 In frame @beatrizazzevedo, Photo and Edit by @thegingerwanderlust and @lorenzowanderlust
Tirta Gangga is one of the places that many aesthetic aficionados visit to snap photos because of its rich water garden. Similar to its sibling royal bathing complex, it has wading pools, fish ponds, fountains, and tropical gardens all surrounded by perfectly mowed lawns with stepping stones, elaborate sculptures, and tropical gardens. It may be found in the town of Ababi, which is around 75 kilometers east of Denpasar. Your Instagram feed will look great with the ethereal, tranquil atmosphere created by traditional Balinese buildings.
12 | Wanagiri Hidden Hills Lookout
Image by @kanom.pg on Instagram
This location in Bali's north has just started to show up on everyone's Instagram feed. Because of this, Wanagiri Hidden Hills Lookout is frequently referred to as a "selfie peak area." The enormous bird's nest, together with the swings and vistas of the lake from lookouts, are some of the most well-liked attractions at this location. Choose from a variety of nests and swings to take lots of gorgeous pictures for Instagram. Without traffic, the trip takes around an hour and a half from Canggu. You may be sure to have a breathtaking view of the sunset from the top of the hill if you arrive here before sundown.
You don't have to worry about searching for a stunning picture spot during your trip to Bali. Bali itself is already filled with plenty of amazing areas for you to pose and take as many photos as you like. Be sure to book a trip to Bali now!