Here are the top 8 most popular thai food in the world. We will travel to Thailand for this exquisite culinary trip.
Khao Niao Mamuang (Mango Sticky Rice)
One of Thailand's best-loved traditional desserts, mango sticky rice is a delicious way to round-off any Thai meal. Served in the most upscale restaurants or street food stalls, this crowd pleaser is a simple dish made with sticky rice doused in coconut milk and slices of fresh mango – lashings of sweetened condensed milk is optional!
Pad Thai (Stir-Fried Noodles)
Thailand's noodle dishes were introduced by Chinese immigrants and arguably, Pad Thai ranks as the most celebrated all. This signature dish is a great go-to introduction to Thai food as it's not too spicy. Similar to many dishes, Pad Thai varies regionally, but is classic ingredients of flat rice noodles, seafood (alternatively, chicken, pork, or tofu), dried shrimp, tamarind, fish sauce, bean sprouts, shallots and egg, all stir-fried in a hot wok, plated-up and sprinkled with roasted peanuts, fresh herbs and chilis (optional). Pad Thai epitomizes that Thai trademark sweet, sour and salty combo of flavors and well-balanced texture contrast.
Tom Yum Goong (Hot & Sour Shrimp Soup)
One of Thailand's most iconic dishes, this popular soup is a spicy, sour and aromatic tastebud extravaganza! Hailing from the central region, the unique flavors of this piquant clear soup derives from the marriage of fragrant lemongrass, shallots, fish sauce, galangal, mushrooms, kaffir lime leaves, lime juice and red chili peppers. Although shrimp (Goong) is most commonly used – regarded as the most delicious version – other variations cover chicken, fish or mixed seafood. If you find this all too spicy, northern specialty, Thai chicken coconut soup, lends a milder, sweeter and delicious alternative; it has the same sublime flavors and spices, yet the chilies are optional and the creamy coconut milk tempers the heat.
Tom Kha Kai (Chicken in coconut soup)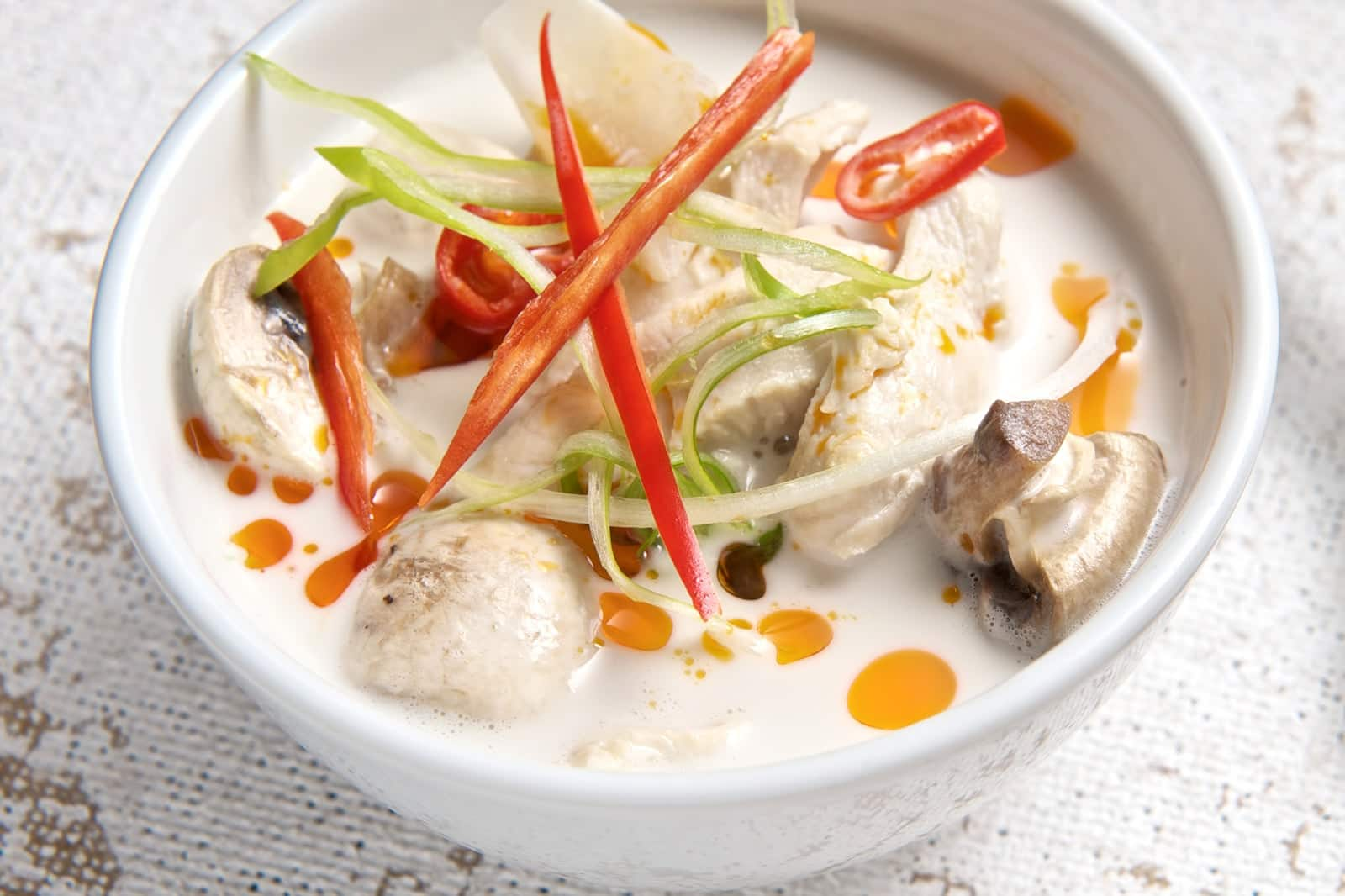 A mild, tamer twist on tom yum, tom kha kai infuses fiery chillies, thinly sliced young galangal, crushed shallots, stalks of lemongrass, and tender strips of chicken. The dish also includes coconut milk to reduce the spiciness, before topping it off with fresh lime leaves. Like most Thai-style soups, you can pair your bowl of creamy tom kha kai with steamed rice.
Red curry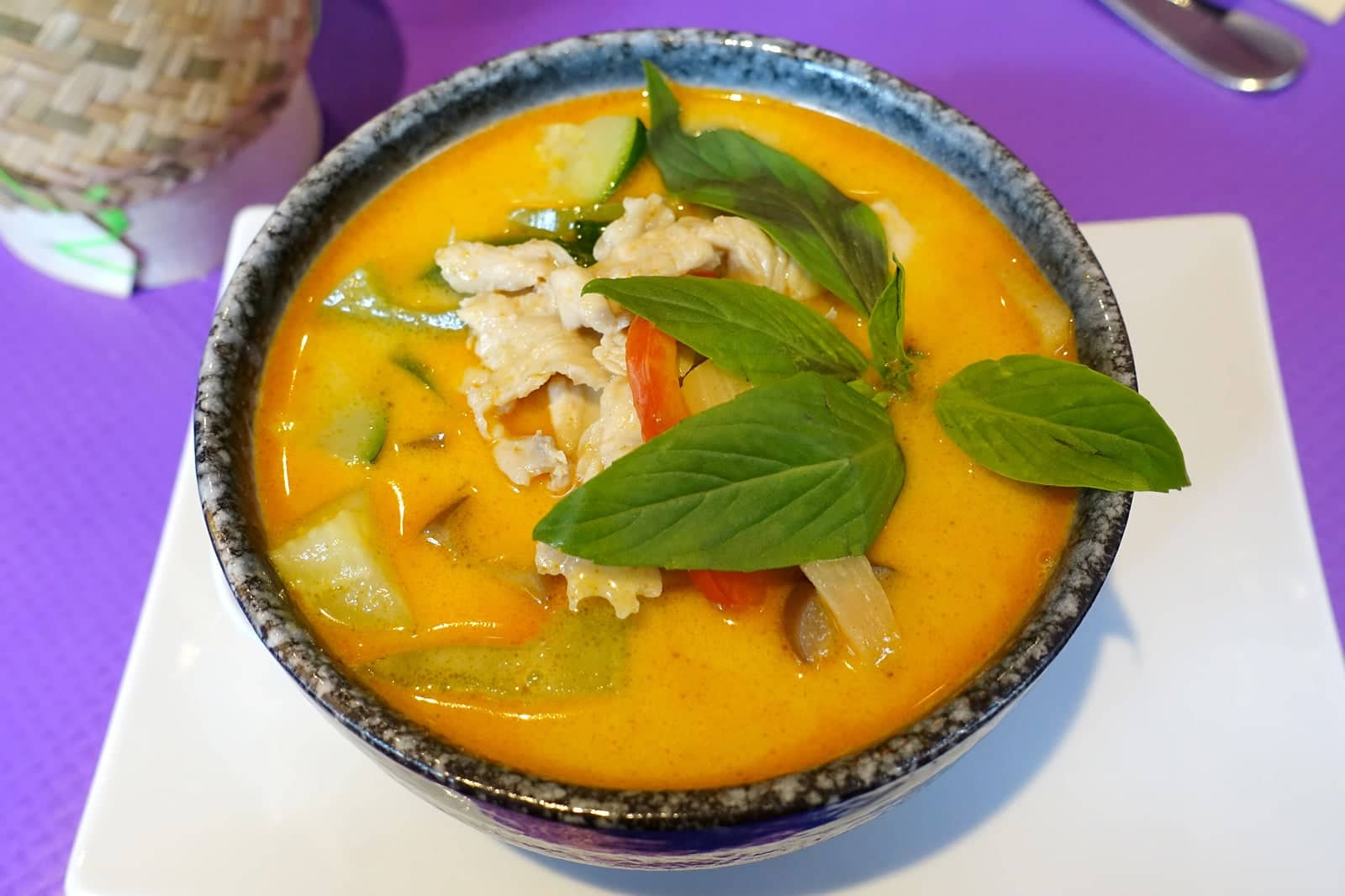 Gaeng daeng is an aromatic red curry containing meat, red curry paste and smooth coconut milk, along with a sprinkling of sliced kaffir lime leaves on top. Despite its striking colour, gaeng daeng is quite mild though you can request for fresh chilli if you're in the mood for spicy foods. Vegetarians or vegans can still enjoy this curry by asking the chef to replace the meat with tofu.
Green chicken curry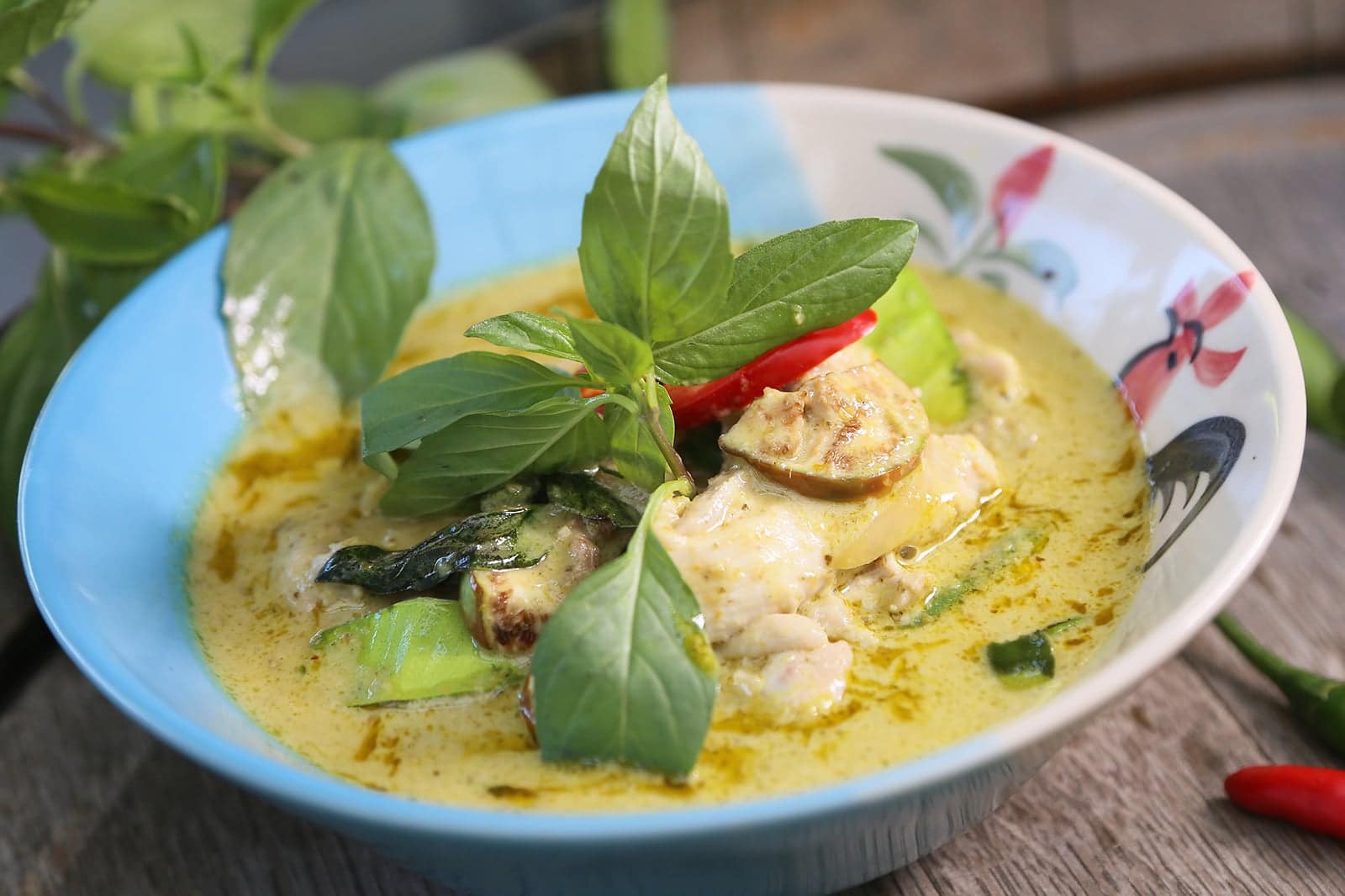 Gaeng keow wan kai gets its unique colour from green chillies, though ingredients used are like most Thai curries. This green chicken curry contains coconut milk, cherry-sized eggplants, bamboo shoots, galangal, lemongrass, coriander and sweet basil. It tastes richer and sweeter than the classic tom yum, and pairs well with flatbread or steamed rice.
Yam Talay (Thai Seafood Salad)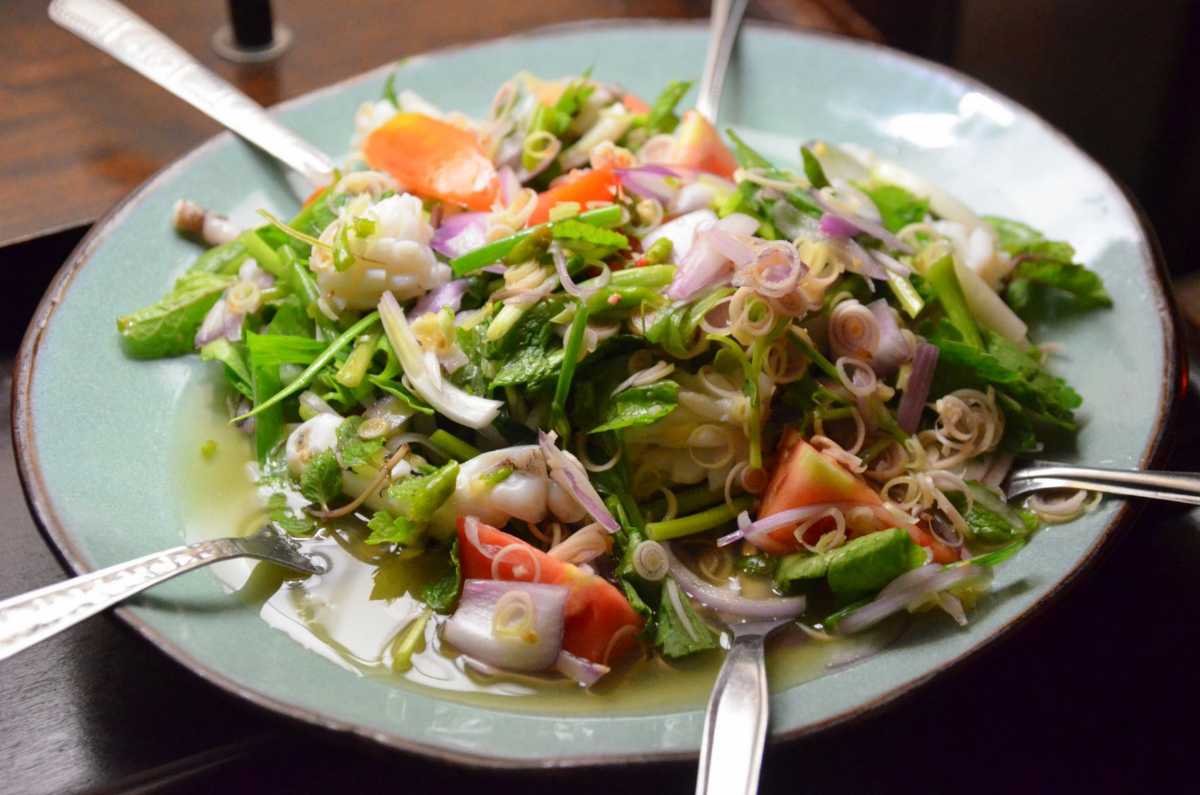 Moving on to the next dish to have in Thailand, we have Yam Talay. Yam Talay is a popular Thai seafood salad. The ingredients required to prepare the dish are divided into three categories- ingredients for the salad, ingredients for seafood, and ingredients for the dressing. The ingredients needed for the seafood are mussels, salt, shrimp, sliced squid, sea scallops, crabmeat. For the salad – Boston lettuce, shallot (sliced), thinly sliced scallions, coarsely chopped fresh cilantro, cherry, English cucumber, mint. And finally, for the dressing, the ingredients required are- lime juice, fish sauce, granulated sugar, garlic chopped, green chilis.
Yam Nua (Thai Beef Salad)
Yam Nua is a simple, beef salad preparation that will be the perfect companion to you and your beer on a warm, summer day. It is available in many restaurants and street stalls in Thailand, but you can even enjoy it within the comfortable confines of your home because the recipe to make it is very easy. This spicy beef salad is made using every type of flavour you can imagine, from tangy to saucy to hot to sour and so on. Different places serving Yam Nua use different herbs and condiments to make it, but the basic seasonings involved are lemongrass, kaffir lime leaves, shallots, cilantro, mint, lettuce, cucumber, garlic and Thai chillies. As with most Thai food, this salad too contains a generous portion of fish sauce (nam pla) which adds a little tasteful pungency to the flavour. Not to forget the main ingredient, the juicy chunks of steak make up the main part of the salad, dripping with sauces and savoury tastes that will give you a gastronomic high.